Youtube is the second most visited site on the web and anyone who owns a Youtube channel would want their channel to grow. According to statistics, three hundred hours of video are uploaded on video every minute. Your video might just as easily get lost amidst these large numbers. That is why you need an advertisement and promotion. Through this article, we will give you a detailed guide as to how you can take advantage of the various promotional techniques and strategize the growth of your Youtube channel.
Starting off with your youtube channel
Choice of channel theme
My main advice is to do what you like and what you know, otherwise, you will quickly get bored. A topic that you may think is of no interest to anyone can be of interest to tens of thousands of people around the world. I still wonder how videos where people just eat in front of a camera and collect millions of views.
Please note that the rules of Youtube prohibit posting:
Videos of a sexual nature.
Videos that can lead to unsafe experiments.
Films that call for discrimination.
Content that is shocking.
The video that insults and humiliates others.
Fraudulent videos.

Channel registration
Each user of Youtube has a personal channel that you can fill in with the video. To enter it, click on the profile icon in the upper right corner of the site.
How to choose a name for your business
The personal channel can be managed by only one person – the owner of the profile. In addition, the channel name will be the same as the user name. This option is suitable if you want to create a channel on which you will tell about yourself and your hobbies. If you want to develop a personal brand, don't change anything.
Another option is to create a separate channel on a special page. Several users will be able to manage this channel, and YouTube will allow you to choose a name. I advise you to register the channel in this way. If you invite other people to your team, you can easily give them access to the channel.
Design of the channel
To make your channel stand out from the crowd, come up with an original logo and a cover that is on top of your channel. If you can't draw on your own, I recommend ordering a design from professional designers or freelancers.
Come up with a corporate identity for your video covers. As for me, the cover is even more important than the name of the video – it is the cover that the eye of the viewer first pays attention to, who chooses what to watch. The cover should make it clear what the video is about. I do not recommend putting a lot of text on the cover – formulate the topic of the video with a short slogan.
Channel Optimization
Edit the start page, which your subscribers and casual viewers will see. It should give as much insight into your channel as possible – place your most popular and high-quality videos on it so a new viewer will get a desire to subscribe to you.
Remember to link to your social networks and leave an email address where viewers and advertisers can contact you.
To make it easier for viewers to find certain videos on your channel, create playlists. For example, if you create a channel about cooking, create playlists separately for salads, soups, and baked goods.
Target audience
You should thoroughly examine your target audience. The prosperity of a business depends directly on the completeness of the information. The list of characteristics includes age, gender, place of residence, marital status, and other characteristics specific to your type of business. The combination of factors will make it possible to determine what advertising and content strategy in a certain situation will be most profitable.
You should know what concerns and cares every potential visitor of your channel. If you will help to solve the problems of visitors, they will be very grateful to you for this. Understanding the whole situation related to the target audience will give you the opportunity to correctly position your videos.
Create accompanying socials
Learning all the features of the audience, you can approximately find out where your potential customers spend time, what they read, what they are interested in. Pay attention to inexpensive or free channels of communication. With the right approach, they will bring good results with lasting effect, help to attract and retain loyal users. Create groups and channels in other socials, that's free can and can be a significant boost to your views.
Connect Google AdSense
Monetization is available for channels with at least 1000 subscribers and 4000 hours of shared video viewing in public access.
Rules of content monetization on YouTube
In order not to miss the moment when you will be able to monetize, go to "Creative Studio", go to the "Monetize" tab, and click "Notify me when the required indicators are reached". If you have already met the requirements, click "Start".
To become a partner of YouTube and connect monetization, you need to link YourTube account and Google advertising network account – AdSense. After that, moderators will check the channel for compliance with the rules of monetization – it usually takes a month. If the channel does not pass the check, you can reapply after 30 days.
Instructions for Youtube affiliate program candidates
Money for advertising in your videos goes to your AdSense account on the third day of each month. Money accrued in U.S. dollars.
The minimum withdrawal amount is 100 $. In our experience, it may take many months after you connect monetization before you reach this threshold. After that you can withdraw the money once a month by bank transfer.
Find best ideas for the channel
Interests of "Youtube" viewers are constantly changing, so I recommend not to chase only trending ideas, but to do what you know what you are expert in. It's better to do what you like for a thousand viewers than to shoot movies for a million.
Here are the themes and formats that I think will be popular for a long time to come.
Travel content. To create travel videos, you don't have to buy expensive equipment and tickets to exotic countries. You can become successful by telling about unusual places in your city or district.
Technology channel. You can review everything – from smartwatches to cars. Some of the viewers are just interested in the characteristics, and someone selects a quality device, so it is important for them to know the pros and cons.
Unboxing. Channel about the unpacking of products on camera, not necessarily a Hi-tech. Few people want to change their smartphone every month, but many people are interested in looking at a new gadget. Unpacking equipment is very expensive at the start.
Beauty blogs. Popular channels about cosmetics novelties, fashion, and trends. The authors show and tell you: how to make up, where to buy cosmetics and related products, which cosmetics it is better not to choose.
Video blogs about motherhood. In the video blogs, mothers tell about the hardships and joys of motherhood, help other mothers to better understand the child, tell them which toys and clothes are better, help with learning.
Crafting blog. Craft interesting and useful things, renovate old stuff, talk about techniques, talk about building.
Reviews. Do reviews on movies, games, shows, food – on everything you really know. Your expert opinion will help people find quality content, goods or services. Many bloggers like to dilute reviews with humorous sketches or historical references.
Ways to promote your youtube channel:
Make your video titles more engaging
Would you want to watch a video that does not have an appealing title? Our point is, never stop on the first title name that pops in your mind. Give it a thought, spread out some options for yourself, and choose one that looks the most appealing.
"How-to", "best-of", and "Top-ten" titles are some of the titles that get a lot of attention and views from the audience and you could use these if they cater to the kind of content that your channel consists of.
Do not, however, resort to clickbait titles. This strategy may increase your audience in the short run, but makes your channel untrustworthy in the longer run.
Take your youtube SEO to the next level
Just like the content on Google requires optimization in terms of tags, meta and keywords, so does on Youtube. To step up your SEO, try and include as many keywords as you can in your video descriptions as well as video titles. Youtube also offers you the choice of adding tags to your videos. Adding tags helps Youtube to understand your video's context and makes your content visible to people who have searched for the same or similar content.
However, do not insert keywords randomly anywhere and everywhere. It spoils the content of your video as well as makes it look absurd.
However, a competent selection of tags still does not guarantee success. Sometimes, videos for which they didn't put any tags became popular. Others can't be found through a search even by a particular title.
Youtube's algorithms are unpredictable and constantly changing, but it's still better to spend 20 minutes on the analysis of SEO keywords and tags than writing bad tags or not writing them at all.
Create your own thumbnails
Instead of letting Youtube decide a random screenshot from your video as a thumbnail for your video, create your own thumbnail. The video title and thumbnail are more like a must-have duo. Just like you need a good title to make your content more appealing, you need a good thumbnail to grab a user's attention towards your video. Moreover, a good and attractive thumbnail also makes your channel look more professional.
Keep in mind that just like the titles, do not resort to clickbait thumbnails. It brings down the overall impression of your channel infront of the audience.
If you can't make it yourself try to order it from freelancers and ask for a template, so you can easily make thumbnails later after a 10-minute Photoshop course.
Run contests and giveaways
Running giveaways and contests have proven to the most efficient way to grow your channel. People love free stuff and do not mind subscribing to your channels and following up with your channel further. Asking your audience to like your video, comment on it, and also subscribe to your channel to be a part of the contest is one of the simplest ways to promote your channel.
There is a downside to this too. Make sure that you genuinely offer prizes to the contest winners and not do it for the sake of getting more subscribers. Also, only continue doing it if you see a good increase in your engagement numbers. If not, it is pointless to waste your time, effort, and money on this promotion method. Luckily, there are vast services to organize a giveaway in just 5 minutes.
Create playlists
Organize your videos by creating playlists so that the viewers can effortlessly navigate through your channel. There is also a tendency to binge-watch channels if you have created easy and actual playlists. There is no downside to this. Your content stays organized and your audience stays way longer.
Use social media platforms
Promotion with instagram:
Use Instagram to give short fifteen second trailers of big upcoming videos on your Youtube channel to get the audience hyped.
Once you have established your Youtube channel well enough, you will start to notice a positive bond between you and your audience. A very simple and effective way to strengthen this bond and make things more fun is posting BTS. BTS or Behind The Scenes can be posted on Instagram to get your audience engaged in your work, how you make videos and what effort goes behind the scenes.
Another cool way of promoting Youtube on Instagram is posting shoutouts. If you have a well-established channel, fans and audiences generally love to make artwork or anything that is related to your channel. Give those fans a shoutout from your Instagram and you will begin to see more engagement on your channel.
However, there are some major disadvantages of promoting your Youtube channel on Instagram. Although Instagram has high engagement, the conversion rate is pretty low. People on Instagram like to stick to stick to Instagram and do not show much interest in switching from one app to another unless it's some content they really want to watch. Thus, even though Instagram gives you the ability to increase exposure and promote your channel, there are a lot of challenges.
Promotion with reddit:
Reddit is a comparatively difficult platform to promote your content on. However, proper and wise marketing can make Reddit a helpful tool to promote your channel. Here is a step by step guide explaining how you can promote your Youtube videos and channel on Reddit:
Analyze your videos and categorize them into different topics. For example, travel-related, food-related, tech-related, etc.
For the different topics that you have come up with, search Reddit for various Subreddits related to these topics. Choose the Subreddits with enough subscribers.
Get actively involved in these Subreddits before you start promoting your channel. This will let the moderators know that you have not become a part of the Subreddit for the sake of promotion.
Once you have established your presence in these Subreddits, start promoting your channel in a manner that shows that you are helping other fellow Reddit users.
The disadvantage of Reddit is that the users are generally pretty strict and protective about their Subreddits and do not encourage self-promotion.
Promoting your channel on Facebook
Facebook is a great platform because it feels like just about everyone uses the platform. Your audience is out there for sure and waiting for your videos. 
Every time you upload a video, make sure to share your video to your Facebook page. Extend your reach, send a link to your friends, and ask them to engage. Social network algorithms favors content that people are clicking on, liking, and commenting on. By asking friends to engage, your video will be shown to more people.
Promoting your channel on Twitter
Twitter seems to be the right platform for huge YouTubers. But it's great for small ones because it feels the most personal, and if you've got followers, chances that they're going to regularly check your account are big.  
Start regular posting on your feed, creating polls, and letting your followers know when you've posted new content. 
Twitter is a great way to grow your influence in a niche.
Link to your YouTube on Quora 
Quora is a place to ask and answer questions and drive traffic to your website. 
The thing of promoting on Quora is this: find questions related to your content, write great answers, add a call to action phrase to the bottom of your post and link your channel. 
Offer real value
This may seem obvious, but it's still worth saying.
Great content is the best way to keep viewers engaged and the most effective way to rank well in search. That's because YouTube's ranking system prioritizes the viewer's experience. Try to improve on every video.
Interact with fans
Successful YouTubers constantly monitor and interact with their fans.
Respond to viewers' comments and "like" your favorites. Post response videos. Use analytics to identify your top fans and show them some extra love.
Here is an example of interaction on 2,62 mil channel on 18 mil views video.
Know your viewer and respect guidelines
YouTube bothers a lot about a rising number of underage users and inappropriate content for them.
Don't post anything you wouldn't want your child to see. If you're ever unsure if your video appropriate for all categories, please double-check the community guidelines.
Create a whole video series
Consistency pays off. Post videos on a regular basis to keep viewers coming back to your channel again and again.
Choose a catchy, keyword-friendly name for your series for the best results. Create a custom thumbnail to give each video in the series a similar look and numerize them.
Producing one excellent standalone video might fetch you a few hours of watch time. A better way, though, that enforces binge-watching is creating a series.
The first step is picking a subject that will resonate with your audience. You can find out the same either by looking at your YouTube Analytics (if you've been a creator for a while and gathered sufficient data). Else, you can use keyword research tools.
Once you finalize the subject, you can create a compelling script for a series. After you've rehearsed and perfected it, produce the series. Before releasing, you can create a buzz for it by releasing a couple of trailers.
Finally, you can release the series in either of the following ways:
All at once: This is the original Netflix way that provides convenience and creates a seamless experience for your viewers.
At regular intervals: You can also create buzz for every episode and release them weekly. Every new video can be also put under a playlist. It creates excitement and builds anticipation in your audience to check your channel regularly.
Series are an underutilized tool on YouTube majorly because a series requires a high budget and exemplary storytelling skills. However, when executed well, it's ammunition to promote your channel.
Pro Tip: You can add all of your above videos in a series playlist. While a video can exist in unlimited playlists, it can only appear in one series playlist. So such playlists are also useful for high-level classification of your channel.
Stream and go live
YouTube is the most popular of all live stream platforms. Take advantage of this by creating content that really engages viewers.
Webinars, Q&As, events game streams or live tutorials all work pretty well on live. Also, don't forget to check YouTube Live to get new ideas.
Call-to-action
Include an awesome CTA in your video to make the most of your hard-earned audience.
Maybe you want to push your viewers to like or share your video. Maybe you want them to click through to your website. Whatever you ask, the best CTAs are always clear, compelling, and urgent.
YouTube just released a new call-to-action extension for in-stream ads. But there are also lots of free ways to add CTAs to videos:
Direct Host-Mentions: Look into the camera and verbally tell viewers what you want them to do.
Video Descriptions: Ask viewers to comment, share, or like your video in the description itself.
End Cards / Screens: Add a customizable screenshot to the beginning, middle, or end of the video. These powerful visual cues add punch to your CTA.
Take advantage of the holidays
Get some extra subscribers by anticipating what people are looking for. Use holidays, popular movies, and trends as opportunities to post relevant content. You'd be surprised how well this strategy can work!
Balance trending content with evergreen videos
Upload a few timeless videos that your subscribers will return to again and again. Popular evergreen content includes how-to guides, tools and resources lists, stat collections, tip roundups, and more.
This kind of evergreen content can rank well for years, increasing traffic and boosting SEO.
Fill out your YouTube profile info completely
Be as descriptive as possible. Tell people who you are and what your channel is about. Include links to your email, social media profiles, websites, and blogs. Be sure to include as many keywords as possible to improve your Google search rankings.
Schedule videos to be published regularly
Creating a schedule for when you publish videos gives viewers a reason to subscribe to your channel and lets them know when they can check back for more content. YouTube's algorithm prefers content that is produced often. If you can publish content daily, great! If your videos take longer to produce, try to schedule them to be published weekly. Include the video schedule in your channel profile. That's also a good way to catch your viewers at a certain time of the day, this can give you significant growth if you find out when you get the most views.
Advertise your YouTube channel
Using YouTube advertising allows you to promote your YouTube channel to targeted groups of your audience.
Here are a few useful tips on how you can pay to promote your channel with YouTube advertising.
Shorter ads typically have better view rates than longer ads. Aim for 20-60 seconds for most types of video ads.
First impressions matter. If too many people are rushing through your TrueView skippable ads, try changing just the first five seconds.
Remember the importance of CTAs. Make clear to the viewer what they should do next, whether you want them to subscribe, visit your website, share your content, or make a purchase.
Using TrueView in-display ads (otherwise called video discovery ads) can be a great way to promote your existing videos. Make sure your content is well-optimized and caters to the needs of your audience.
When you are ready, you can start running a Google AdWords campaign to improve your video marketing, accelerate your channel growth, and get your videos seen by more people. And the best part is that you can set your own budget. Pay to promote your YouTube videos and stick to the costs that are right for your business.
Collaborate with other influencers in your niche
Engage, collaborate, and interview other brands on YouTube to expose your channel to new audiences.
Now look what happens when you search for this channel on YouTube: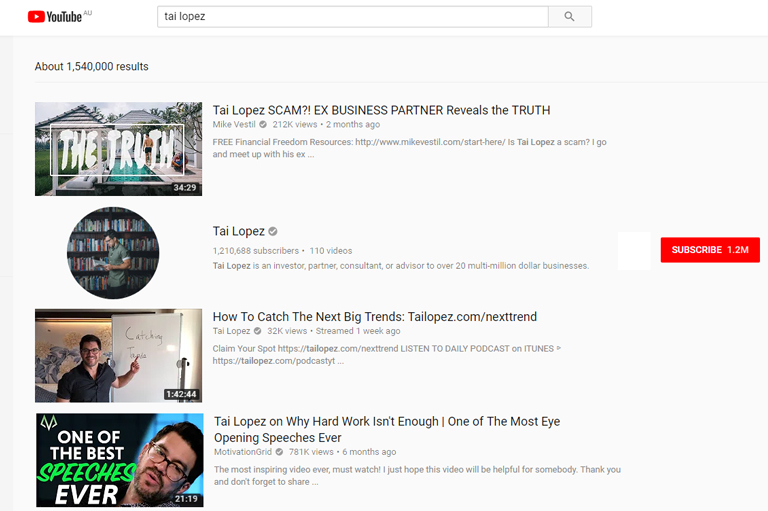 You do, of course, find his channel and his videos. But there are also videos by other brands who have interviewed, responded to, or otherwise included Tai in their videos. By creating content that is linked to an expert in their niche, these users have successfully climbed the ranks to appear at the top of the search page.
Additionally, a partnership with another content creator can be a great tactic to widen your subject matter and build your subscriber base.
Try collaborating or engaging with big influencers in your industry to spread your reach to viewers who are likely to be interested in content like yours.
Enable video distribution and encourage embedding
Make sure your audience is able to do some of the work! By that I mean you should double-check the distribution options of your channel and ensure that you have enabled video embedding.
If customers, bloggers, business owners or other viewers love your video, that may wish to share it with other people. Allowing people to embed your videos means they can insert your content into their website, blog or YouTube channel. This is an effective way to gain more exposure to new audiences.
To enable video embedding on Youtube:
Go to your "Creator Studio".
Select "Video Manager".
Click "Edit" on the video you want to edit.
Go to "Advanced Settings" and ensure the "Allow embedding" option is ticked.
Now people will be able to click the "Share" button and easily copy and paste the embed link into their website.
Leverage The Community Tab And YouTube Stories
These two tools are relatively new and are not available to all creators. They are YouTube's attempt to create a full-fledged social media experience for its users.
If you have a community tab, then you can interact with your audience by posting questions. The School of Life uses it to publish written-essays that accompany their intriguing video sketches.
You can also use the tab to promote your upcoming videos.
YouTube has also launched stories that follow a similar format to other social media platforms like Instagram. The difference is that although these short video posts are also temporary, they last for 7 days.
Don't Forget The Basics Of Filmmaking
As discussed, accumulating a significant amount of watch time will put you on the map and get rewards from the YouTube algorithm.
However, the overarching strategy that determines if a viewer is emotionally engaged is your story. Ideally, you want to have one big idea for one sketch. All the elements in your video should then support this central theme. If you digress from it, it's a distraction and will lead to your audience losing interest. You need to find something that an audience is interested in. And share it with them in a way is that they are also interested in it.
Jump Cuts: When used judiciously and tastefully, they are a great way to gain the attention of a viewer dropping off.
It's All About Audio: It's not about buying expensive gear to produce good visuals. But, maintaining a high-quality audio output is crucial for a great listening experience.
Quality of video clips
To attract viewers to the channel, you do not need to have a professional camera and an expensive microphone. Modern smartphones shoot with sufficient quality, and they can also be used for decent video processing.
The main thing is to make sure that the video does not have a technical defect: sound distortion, echo, defocused image. In my opinion, sound quality is even more important than image quality: many people put the video on the background and do not look at the screen.
If you know what you're talking about, communicate with your audience and come up with interesting formats, it will give you more advantage than lighting or editing.
Most formats you do not need a camera or expensive equipment at all.
Advertising through the channels of other bloggers
A beginner author can order advertising on more popular channels. It is worth looking for channels with similar themes and not too many subscribers.
For example, you have 500 subscribers on your channel and you want to order advertising from a channel with 100,000 subscribers. This is not a good idea, because if the quality of your content does not reach at least a little bit the quality of an author from 100 000 subscribers, then viewers will come, watch a few seconds and leave.
Ask authors who have 5000-10 000 more subscribers than you. If your channel is growing and developing, you can order ads from larger channels over time.
Advertising costs money: for not very popular authors, it may cost a hundreds dollars, but if you want to order advertising from a blogger who has more than 100,000 subscribers, be prepared to spend a few tens or even hundreds of thousands of dollars.
It is unlikely that you will find a public price list. Firstly, because bloggers do not like to advertise their income. Secondly, because many people announce the price of their posting after they get acquainted with the channel. They usually charge less for advertising educational projects, and if you run a channel about cars or finances, you will have to pay more.
Sometimes authors work on barter. For example, if you have an approximately equal audience, you can agree on mutual advertising – another author on his channel advertises yours, and you on your own – him.
Commenting on videos by well-known bloggers
To slightly increase your audience, you can leave a comment under the video of a popular blogger: ask to go to your channel and read the content. If the viewers like it, they will stay.
Not all authors like to have their audience poached, so sometimes such messages are deleted.
Monetization
The number of video views
YouTube does not pay for the number of video views, but for the number of advertisements shown. It is impossible to predict the income: in one day YouTube can show an advertisement to 999 viewers out of 1000, in another day – to no one. It all depends on the advertisers' offers, the subject of the video, the audience's ability to pay, AdBlocks and many other factors.
Advertising integration revenue is only indirectly affected by views. If you were asked for 500$ to advertise a mobile game, you will be paid 500$ regardless of the number of views. But the more views on the video, the more chances that the advertiser will like the result and he will return with a new offer.
How much can you earn in your niche?
The quality of monetization. If the video meets the rules of monetization, YouTube will show advertising in it. It will share part of the profit with the author.
Many advertisers follow their reputation, so they do not want their advertisement to be shown in questionable videos. If the video is about gambling, weapons, or tobacco, YouTube will include limited monetization. Usually, such advertising is cheaper.
Youtube information about monetization icons
If YouTube algorithms think that advertising in the video is unacceptable for advertisers, then monetization will be disabled and the author will not earn anything. For example, monetization will be disabled if the video contains shocking frames or conspiracy theories.
Direct advertising in video clips
This is one of the main ways to earn money for YouTubers. The advertiser asks the author of the video to tell about his product and pays the money for it. The amount depends on the number of subscribers, views, and channel topics.
Usually, advertisers pay attention to channels with more than 100 thousand subscribers – it is easier for an advertiser to negotiate with the owner of such a channel once than to negotiate with ten owners of smaller ones.
Brand ambassadorship
Keep an eye on your reputation and don't chase profits: if you agree to advertise a dubious financial project, it's unlikely that a bank will come to you with an advertisement in the future.
If you have a highly specialized channel, such as board games, try to reach advertisers yourself: write to stores or board game manufacturers, tell them about your channel and offer to cooperate.
And most importantly, be sure to leave your contacts in the channel's description so that advertisers can contact you. You have no idea how many stories "why no one writes to me about advertising" I have heard from people who have not added their mail to the description.
Contextual advertising Google Adsense
You must have seen the advertising videos before the clips on YouTube. Advertisers place them through the advertising network Google Adsense, and YouTube decides what to show and to whom.
For a blogger to be rewarded, the viewer must watch the ad until the end or at least 30 seconds if the ad is long. And 45% of the amount paid by the advertiser, Youtube will take it for itself.
The advertisement is not shown to the viewers with a YouTube Premium subscription. As compensation, YouTube pays the authors for each time if a viewer watches a video with this subscription.
Partner programs
There are various agencies that offer YouTube to sign a partnership agreement. They will charge another 20-30% for this in addition to what Youtube has already taken. In return, the agencies offer assistance in promotion, training, technical support, and promise to make life easier for a beginner content creator.
I can't give a bit of unambiguous advice on whether to connect to the partner network or not. I have heard many positive and negative reviews. Some say that the partner just takes the money and does nothing, while others say that they could not grow the channel without its help. I think it all depends on the conditions and quality of the particular partner network, so carefully study the feedback before signing the contract.
Selling your goods or services
A channel on YouTube will help you attract clients. If you are engaged in needlework, you can record training videos, telling about your handicrafts. If you are a masseur – you can share interesting facts about massage and invite people to your session.
Earning money on other people's videos.
Formally it's forbidden to earn money on other people's videos: YouTube wants you to create original content.
However, many bloggers have earned popularity on "reactions" – they watch other people's videos and comment on what is happening. This is considered an original work, even if the author of the video sits silently in front of the screen.
Integration with other social networks
If you have seriously decided to develop a channel on YouTube, I advise you to start a page on other social networks. Many popular bloggers create publicity on Facebook and channels in Telegram in order to expand the audience, develop a personal brand, and sell additional advertising.
Streams and donations
There are not so many authors on YouTube, who deal exclusively with streams. Most authors stream to diversify the content and communicate with subscribers. Although there are channels where they stream video games, organize online concerts or quizzes, and hold lectures.
During the broadcast, authors can collect donations and special subscriptions. Spectators who want to support the author financially transfer money to a card, an electronic wallet, or special services.
Revenue with Superchats and Superstickers.
These tools allow authors to earn extra income from the Streams. Spectators can send paid messages in the chat room, which are highlighted in color and sometimes fixed at the top of the ribbon for a certain time. The size of the donation is determined by the viewer. The more he has paid, the longer his message will stay in the chat.
This is especially useful for authors of popular channels that streaming constantly: there are too many messages and viewers in a regular chat to react to everything. So viewers can attract the author's attention with a donation.
Troubleshooting
One viral video is enough to wake up famous
As we have already said, there is no point in getting a hundred thousand views under one video. Such success is fleeting, and a blogger will be forgotten as quickly as he or she was loved. It is necessary to attract an audience with each video, to arouse a desire to watch another issue, then another… The record has gained an incredible number of views – it's wonderful. But you should not stop there.
Virus clips are good as hero content, for gaining an audience and increasing the channel's recognition. To keep subscribers' attention you need other videos – training, entertainment, information, etc. That is, in order to become famous, you need to regularly publish videos of different types and gradually increase the number of viewers.
What to do in case of ban or strikes
If a video violates copyright or YouTube rules, such a video is removed and the channel is warned – strike.
YouTube's help on warnings:
For the first time "Youtube" will issue a warning. There will be no indulgence in the following times. If you break the rules after the warning, you will not be able to do it within a week:
Upload new videos.
Strimatize.
Add icons for videos.
Work with playlists.
Create records in the community
The validity period of the first warning is 90 days. If you violate the rules again during this time, the channel will be limited to two weeks. And if you get the third warning, the channel will be deleted without the possibility of recovery.
If you think that YouTube issued a wrong warning, you can challenge it. The rules change from time to time, so it is better to check the YouTube directory.
It is the people who decide on the disputes. Often everything depends on the specific moderator and his mood. Be prepared that an obviously unfair warning may not be canceled, nothing can be done about it – this is YouTube, and popular bloggers have already put up with it.
Conclusion
All the above-mentioned tips have their own pros and cons. Utilize them to the best of your ability and you will see a visible increase in the engagement numbers of your Youtube channel. We hope that this article was helpful to you.